E Books, Audiobooks & MORE
Over 81,651 titles, not including magazines!
Anytime - Anywhere access to ebooks, audiobooks and streaming video.

ALL you need is your Patron number.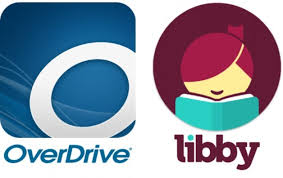 The Linden Public Library subscribes to a service called Overdrive for our audio books and e-books. This service can be used by anyone who has our library card. You can use this service on the computer with the Bridges-Overdrive at https://bridges.overdrive.com/. It can also be used on your smartphone or tablet using the Libby App.
For our library users, this audiobook/ebook app is free! And the best part is - it also still counts as circulation for the library!
If you have any questions about using this service, or if you need help getting your account set up, please contact your local librarian. You can call, send an email, or stop in for one-on-one help!
The library also has some audiobooks on CD that are great for long car rides!
Overdrive may ask you to use Libby for your reading needs. It depends on your device that you are reading with.
The Libby App is available from the app store on your device.
There have been some pretty exciting changes happening in the Libby App and on the Bridges Overdrive system while we are going through the COVID-19 closures. One of the things that you will notice right off the bat if you are a user of Libby, is that you can check out 5 books now instead of 3. Some people will really notice a difference!
The Libby App and Bridges has started the "Big Library Read" to get people engaged in a discussion together about one book around the world. There is a lot going on in the news and around the world right now, and having a book that everyone can read at the same time - without waiting for holds - provides a much needed distraction for some of us! The Big Library Reads is a book called "Funny, You Don't Look Autistic" by Michael McCreary. This book will be available starting today, through April 13th for anyone who wants to read it. There is also a discussion that you can join in on or you can listen to an interview with the author.
Another feature that is just making its debut on Libby is a section titled "On the Shelf Right Now!" These books are going to be available for anyone who wants to read them without any holds. Right now there are about 4,000 ebooks and audiobooks that are in this section, and there are plans for more titles to be added. Currently a lot of the books are classics, but it is amazing how the classics are sometimes just as relevant now as they were years ago when they were written!
If you are experiencing issues downloading materials, it may be possible that we need to update your information, which we have to do yearly.
Please contact the library.